Discover the Fun of Old Outboards!
Peter Hunn's books tell you how to get started!
The Classic Outboard Motor Handbook
Enthusiasts of antique and vintage outboard motors generally fall into two categories. First, there is the person who buys an old motor at a yard sale with an eye to restoring and using it. Second, there is the enthusiast who performs a complete, authentic restoration for the pure satisfaction of returning a vintage piece of machinery to its original condition. Often this second motor will become a static display, taken out for the occasional boat show. This how-to book caters to both groups by presenting case studies covering five of the most typical motor types: an antique 1922 Johnson Waterbug, a classic 1955 Evinrude Sportwin 10, an air-cooled bargain 1957 Comanco, a late-model 3.9 hp single 1964 Mercury, and a 1950s electric Minn-Kota. The case studies discuss principles applicable to all vintage outboards and are preceded by chapters explaining how to choose an older motor, anatomy and mechanics, and equipping a shop. Following the case studies, Peter addresses routine maintenance and usage, including troubleshooting tips and model-specific characteristics. This fine book is available at many bookstores and on the web.
Scott Smith, long-time 2nd generation Antique Outboard Motor Club member (since age 11) writes:
If you've just acquired a junker, clunker or diamond in the rough, and you don't know where to begin to get it going again, then this book is for you! This book answers the questions most neophyte vintage outboard enthusiasts are bound to have as they begin refurbishing their older-than-late model outboard. The case studies are clearly illustrated and are very helpful. However, do not look at this book as a service manual, rather as a companion to a service manual. Most service manuals specific to certain motors are written at a level above most beginning tinkerers, and this book will help bridge that gap.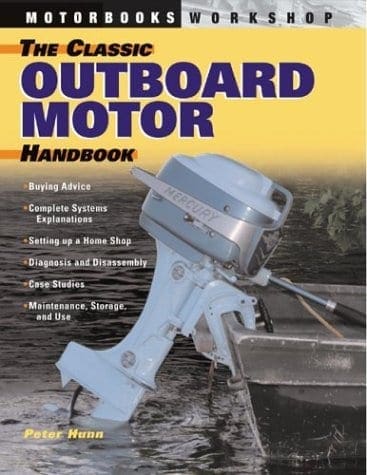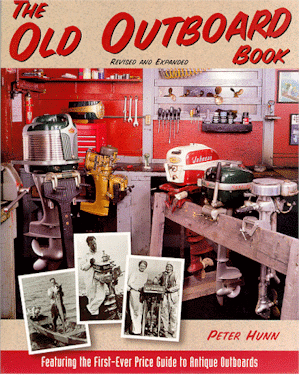 Published by International Marine and in its 3rd edition, this book is available at your public library, local bookseller, and several internet mail-order sources. Several chapters are devoted to the evolution of the outboard and to the history of every specific brand of outboard sold in America from the 1960s back to the invention of the outboard. A reference section includes model and year information, as well as spark plug and oiling instructions. Many pictures grace its pages, and it even covers electric and toy outboards. A comprehensive price guide is also included. It contains so much information at such a reasonable price, we can honestly say that mentioning his book here is less of an advertisement and more of a public service.