Dossin Great Lakes Museum
July 23 @ 9:00 am

-

4:00 pm
Event Navigation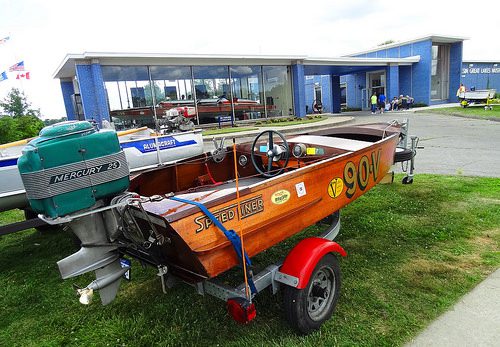 The Dossin Maritime Museum Meet, Saturday July 23 , 2022
On the shore of the Detroit River, beautiful Belle Island.
I have confirmed that our meet at the Dossin is all set to go. Last years meet was very well attended. We plan on even a bigger show this year because our meet falls on the weekend that the Detroit Historical Society is celebrating it's 100th anniversary. We expect a large public turn-out in response to promotion of the anniversary. The museum will have special displays and I understand that a food vendor cart has been lined up for Saturday.
It should be a good show… lets do our part in making it special. The newly redone grounds we will allow us to display several boats along with a large assortment of motors and the test tank so we can make some smoke and noise. Mark your calendars, see you at the Dossin.
We will have a very special, perhaps "once -in – a- lifetime" display of very rare early outboards. On display will be the only known 1906 Air Cooled Waterman and the earliest known outboard propulsion device, the 1892 Salisbury Electric. Additionally, we hope to have the Cameron Waterman prototype Curtiss motorcycle engine that started "it" all.
For more information, contact Joe Brincat
Contacts:  Joe Brincat
fixerjo@sbcglobal.net
Meet Type: